MAGICIAN GF HOMOZYGOUS GERMAN WARMBLOOD.
2007 16.1hh ZFDP Cremello stallion at stud.
Magician GF is graded with A.E.S and Breeders Elite.
This stunning cremello stallion is a fully papered German warmblood, bred in Germany and imported as a foal,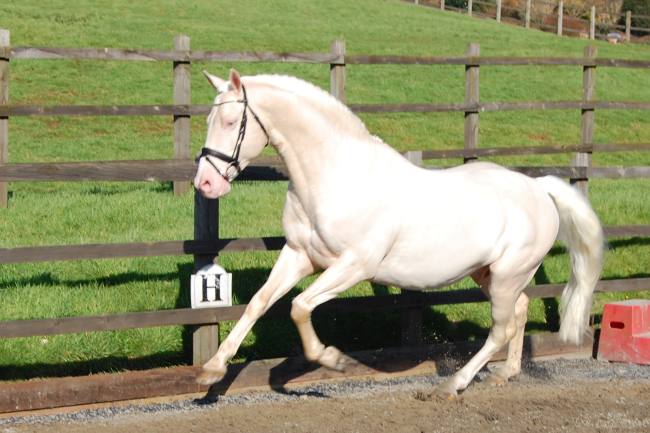 Place cursor on images to see full size.
MAGICIAN GF is by Mascarpones Erbe whose sire Mascarpone GF, was the first ever Cremello warmblood licensed for warmblood breeding. His breeding is dominated heavily by Hannoverian and Trakehner blood, such as Marduc one of the best Trakehner stallions for dressage. By Halali (Trak.) out of Madeira II (Trak) Died 1995. Marduc is widely considered to be one of the most important Trakehner stallions of today, having previously been ranked the highest Trakehner dressage sire in the world with a very impressive Dressage index of 155. He was awarded Elite status in 1995 for his breeding record. Also included in his pedigree the Hannoverian Weltmann by Wendekreis.
---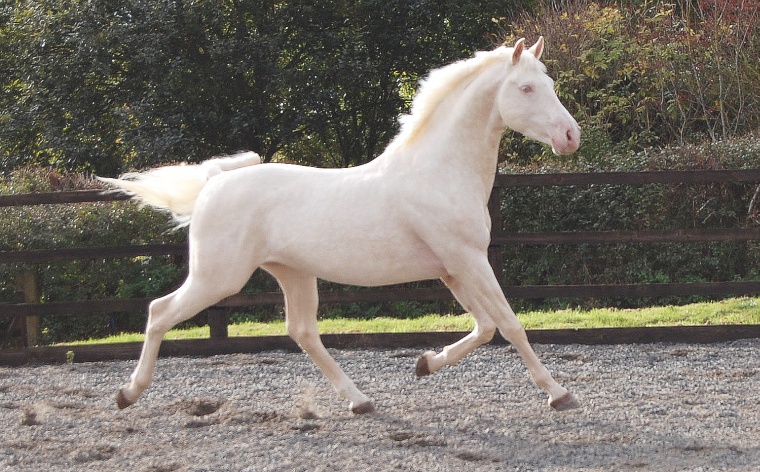 Place cursor on images to see full size.
---
X
↑ Click to play/pause video.
Click for full screen ↑
Magician at Shovern Stud.
(pause or stop the video before leaving the page).
---
MAGICIAN has an outstanding exterior, he is very correct in his conformation and has the most exquisite head. His movement is both straight and correct in all his paces, he has a good length of rein and a very active hind leg. He bascules over a fence and shows much scope.
MAGICIAN has very elevated and expressive movement.
MAGICIAN offers breeders the chance to use a double dilute stallion who is guaranteed to produce Palomino and Buckskin (Dun) from solid mares. Because he has the added benefit of being tested Agouti he will not produce any Smokey Blacks ( many cremello's are not Agouti and therefore produce Smokey Blacks ).
MAGICIAN is Homozygous Double dilute cream Cr Cr. He also has the added bonus of being a carrier of the dominant Agouti/Bay Modifier gene so will NOT produce Smokey blacks!
MAGICIAN has been dna tested and the results are below..........
'Magician'
Lab Ref: 780/4571
Red Factor test result: ee - Homozygous Red. The foundation colour of the horse is Chestnut, however, if the Cream Dilution test result is taken into consideration, this horse can be considered a true 'Cremello'.
Agouti test result: AA - Homozygous positive. The horse is a carrier of the dominant Agouti/Bay modifier gene, and will pass the trait to all offspring.
Cream Dilution Test: CrCr - Homozygous (Double dilute) the horse carries two copies of the Cream dilution gene, therefore can be considered a double dilute. Magician will pass the dominant Cream gene to all foals, regardless of the mare he is bred to. Therefore, 100% of progeny will be Cream carriers.
Evaluation: The chestnut foundation remains unaffected by the presence of Agouti, however, it does guarantee that Magician can not produce a Smokey Black foal. All offspring will receive his cream dilution gene.
Magician x Chestnut = 100% chance Palomino foal.
Magician x Bay = 100% chance Buckskin*
Magician x Black =100% chance Buckskin*
Magician x Palomino = 50% chance Palomino, 50% chance Cremello foal.
*Unless Bay/Black mare carries hidden red gene, in which case a Palomino foal is a viable possibility.